Kenya university raid could be "revenge for slain militants"
Comments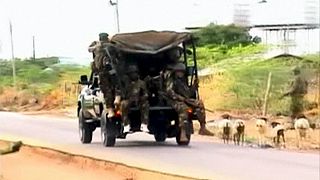 A hostage siege is continuing at a Kenyan university attacked by Somali Islamist gunmen this morning.
At least 14 people are said to have been killed and dozens hurt when masked gunmen raided the Garissa University College, which lies close to the Somali border. The number of people wounded has reportedly risen to 65.
euronews spoke to freelance journalist Bashir Ismaïl about the situation in the town and the possible reason for the attack.
"Why Garissa? First because Garissa is close to the border with Somalia and Garissa is the capital city of Somali people in Kenya. Secondly Kenyan security forces killed three men last Thursday who were suspected of belonging to al Shaabab," said Ismaïl
"So I think these events of today are measures taken by the group as revenge. Kenya is paying a painful price for the trio killed last week," he added.
In a statement, the head of Kenya's police force, Joseoph Boinet, said: "the attackers shot indiscriminately while inside the university compound."
Al-Shabab, which has links to al Qaeda, has claimed responsibility.
Sheikh Abdiasis Abu Musab, its military operations spokesman, told Reuters, "we sorted people put and released the Muslims."