Kenya attack: At least 147 dead; Garissa campus now secure
Comments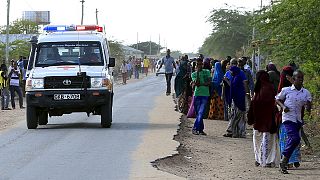 Kenyan government officials say the death toll in the attack on Garissa University has risen to at least 147.
Masked gunmen stormed the campus in the east of Kenya early on Thursday morning (April 2), targeting Christians.
The gunmen in Garissa have been isolated by the security forces in the female dormitories. #GarissaAttackpic.twitter.com/T84TN6mj5U

— BBC Africa (@BBCAfrica) April 2, 2015
Interior minister, Joseph Nkaissery, confirmed the operation to secure the university is now over, with all four al-Shabaab militants killed and hostages released.
"The operation has ended successfully. All the terrorists are killed. The four terrorists are killed…" he announced. "This is a very sad day for Kenya… It's unfortunate that the terrorists were able to kill young, good, citizens, very early in the morning."
All students are now accounted for: 587 students were successfully evacuated; 79 people were wounded, nine critically.
Kenya: University attack highlights security failures http://t.co/0XmwPULw2y#GarissaAttackpic.twitter.com/maqBU8AJid

— AmnestyInternational (@AmnestyOnline) April 2, 2015
We condemn the attack on Garissa University. It's an attack against the right to education & the future of Kenya http://t.co/pveUFYIkvo

— UNESCO (@UNESCO) April 2, 2015
Al-Shabaab has links to al-Qaeda and a record of raids on Kenyan soil in retaliation for Nairobi sending troops to fight it in its home country of Somalia.