World powers struggle to strike deal with Iran over nuclear programme
Comments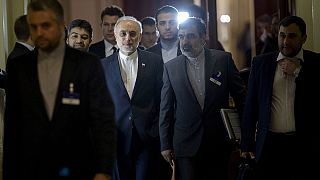 The talking was supposed to have ended on Tuesday night, but world powers are still trying to strike a deal with Iran over its disputed nuclear programme.
The lifting of UN sanctions and future atomic research continue to be stumbling blocks in Switzerland, where the negotiations are being held.
Iran has warned that this could be the last chance.
"Iran has shown its readiness to engage with dignity and it is time for our negotiating partners to seize the moment and use this opportunity which may not be repeated," said Foreign Minister Mohammad Javad Zarif.
With the talks continuing, US Secretary of State John Kerry will stay on in Lausanne, but America says gaps remain and it is prepared to walk away if necessary.
Meanwhile, French Foreign Minister Laurent Fabius, who had gone back to Paris, is re-joining the negotiations.
Germany is warning the talks could still collapse, but says new proposals are now being discussed.
"I believe that a large part of the way has been covered, but such negotiations only come to an end if there's agreement on all points," said Chancellor Angela Merkel.
The aim of the talks is to stop Iran gaining the capacity to develop a nuclear bomb, in exchange for easing international sanctions which are crippling its economy.
Tehran maintains that its atomic programme is peaceful.