The best April fools day pranks for 2015
Comments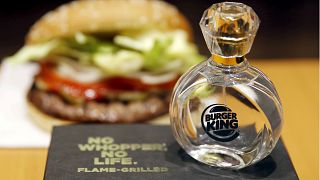 Ex-Top Gear host Jeremy Clarkson joins Guardian drive for fossil fuel divestment
​
He's not such a bad bloke after all. http://t.co/AQWNfBDGlOpic.twitter.com/41U6hzTZMz

— alan rusbridger (@arusbridger) 31 Mars 2015
Be sure to watch the video
of the hoax too.
In France, government-mandated smoke detectors are bugs listening to you
News
website Rue89 revealed in a damning exposé
that the smoke detectors France's household have recently been legally obliged to install are actually secret service bugs. They allegedly automatically switch on when they hear one of the words or expressions in a list of 37 deemed suspicious. Among them, "jihad," "drone," "cheap Paris-Istanbul flight". But others, "Gayet"(the name of François Hollande's girlfriend), "Merci pour ce moment" (the title of Hollande's scorned ex-girlfriend's tell-all book) and "gros poisson" (literally "big fish", but in French an April fool is "un poisson d'avril) hint at an elaborate hoax. This "poisson" is particularly timely as French lawmakers are currently discussing an anti-terror law widely expanding surveillance powers for France's intelligence agencies, akin to some to the
NSA
mass surveillance programs.
In Japan, Burger King releases burger perfurme
Japan's Burger King restaurants released a unisex fragrance on April Fools' Day they call "flame-grilled." The tongue-in-cheek promotion comes with a video, in which a couple dressed in black tie and ball robe enjoy a romantic meal at Burger King, and the woman compliments her partner on his "sexy" burger cologne, according to Reuters. The fast food chain is selling 1,000 bottles of this spicy scent for one day only across its Japanese branches.
Google is inverted today
You'll need a mirror for Google's new search site http://t.co/BWt1WJfD3Spic.twitter.com/9tb3wO7fEo

— Mashable (@mashable) 1 Avril 2015
Berlin to launch the world's first double-decker U-Bahn wagons
Due to record numbers of #tourists, #Berlin today launched world's 1st double-decker subway trains.#DoppelDeckerUBahnpic.twitter.com/vNefVCetIH

— GermanEmbassyLondon (@GermanEmbassy) 1 Avril 2015
CERN researchers confirm existence of the Force
Switzerland-based atomic research center
CERN
, home of the Large Hadron Collider, has announced today
the first unequivocal evidence for the Force
. The statement quotes
CERN
theorist Ben Kenobi of the University of Mos Eisley, Tatooine, an obvious Star Wars reference, saying "The Force is what gives a particle physicist his powers; It's an energy field created by all living things. It surrounds us and penetrates us; it brings the galaxy together." In another, more obscure nod to the film franchise, another scientist says "the theory department have some crackpot idea about life forms called midi-chlorians but frankly I think it is poorly thought out explanations like that just detract from how cool the Force really is." A joke on how the midi-chlorians as an explanation for the Force was briefly introduced in the first movie of the first trilogy, and then never mentioned ever again and quickly forgotten about in the following movies.
The Icelandic Pirate Party has organised a coup in Iceland
According
to a report
the Icelandic coast guard has stormed the Alþingi, Iceland's parliament, and "decided that the only politicians they could even remotely relate to had to be the Pirates". The national branch of the Pirate Party has recently been called
the country's biggest political party
according to a poll. However the report is clear a joke, as it announced, among other measures of the new rulers of the island that in "an effort to stabilize the economy the Icleandic króna will be replaced with the dubloon." To fulfil the Party's promise to build a higher form of democracy in Iceland, "construction of a taller parliamentary building was initialized immediately." Proof, if needed, that pirates have a sense of humour too.
Android messing with its users
This Spanish-speaking Android user fell for an Android April fools. He said on Twitter: "I almost died seeing the Microsoft logo while updating CM12"
Casi me da algo al ver logotipo de Microsoft en la actualización de CM12 #CyanogenMod#AprilFools#Nexus5pic.twitter.com/AlVUlp46zn

— Paco Cubel (@Pcubel) 1 Avril 2015
​
New Back to the Future Movie Trailer, starring Vin Diesel, planned for 2015
This one is for the geeks: Microsoft to launch MS-Dos Mobile
And it even includes a working
preview
Social blogging platform Tumblr to launch its ExecutiveSuite 2016