China's Dongfeng quits leg five of Volvo Ocean Race
Comments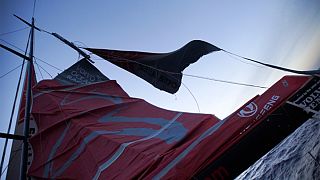 China's Dongfeng Race Team has been forced to abandon stage five of the Volvo Ocean Race.
The team's vessel suffered a broken mast as it approached Cape Horn in the Southern Ocean. The crew say they are unable to complete repairs for the start of the sixth leg to Newport, USA, which begins on April 19.
Abu Dhabi Ocean Racing currently leads having cleared Cape Horn and begun sailing up South America's eastern coast.
They are being closely followed by the American-Turkish Team Alvimedica, Spain's MAPFRE and Team Brunel.