Turkish prosecutor held by gunmen in Istanbul courthouse
Comments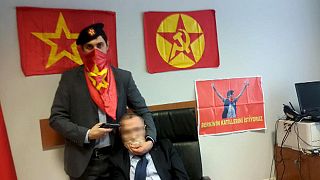 Gunmen have taken a Turkish prosecutor hostage in Istanbul.
The far-left Revolutionary People's Liberation Party-Front (DHKP-C) has published a picture showing the man with a gun to his head.
The group has threatened to kill him if their demands are not met.
Special forces have evacuated the courthouse building where the man was seized.
The prosecutor is leading an investigation into the death of a teenager who was injured during anti-government protests in 2013 and later died.
His captors want a police officer they blame for Berkin Elvan's death to confess on TV and charges against those who attended demonstrations for the teenager to be dropped.
Prime Minister Ahmet Davutoglu met with current and former interior and justice ministers at the ruling AK Party headquarters in Ankara to discuss the hostage taking, according to officials.
The United States, European Union and Turkey list the DHKP-C as a terrorist organisation. It was behind a suicide bombing at the US Embassy in 2013. In 2001, two police officers and an Australian tourist died in a DHKP-C attack in Istanbul.