Opposition candidate poised to cause upset in Nigeria presidential election
Comments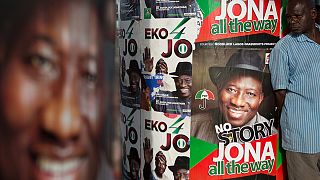 Opposition candidate Muhammadu Buhari has so far defied expectations and extended his lead in Nigeria's presidential election. The former military ruler but now born-again democrat has notched up more than 12 million votes.
That's compared to the 10 million by his rival, incumbant President Goodluck Jonathan.
However there is time for a reversal of fortunes as a major support base for the People's Democratic Party (PDP), the Niger Delta has yet to report..
But results in some results have triggered protests and allegations of political interference from both sides.
Ruling PDP spokesman Olisa Metuh said:
"We have our own misgivings, we have our challenges in some of these states. We have noted it and we are putting it down in writing and we are preparing for how we challenge those processes, and those mistakes and those anomalies. that we believe – those perceived anomalies. we know how we would challenge it."
With results in six out of 36 states still unknown, Buhari and his All Progressives Congress (APC) could be squeezed out at the last moment. Either way there is tension across the country as to how the loser and his supporters will react. In 2011 post-election violence left 800 people dead.
Final results are expected around midday on Tuesday.
Despite trouble with new electronic ID machines and the deaths of 15 people at the hands of Boko Haram militants, Nigeria's electoral commission has given the poll an upbeat assessment. However international reaction has been less positive with the UK and US expressing concern over possible tampering with the count. They have also called for calm following violent protests in some states.
Buhari extends lead in tight Nigerian election http://t.co/a82iPk3r9c via YahooNews</a></p>&mdash; okechukwu okugo (okechukwuokugo) March 31, 2015