Lufthansa knew that co-pilot Andreas Lubitz had suffered severe depression
Comments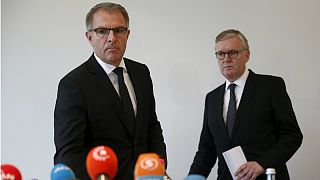 Lufthansa now says that co-pilot Andreas Lubitz, who crashed a plane in the French Alps last week – killing 150 people – told its flight training school in 2009 that he had gone through a period of severe depression.
The airline previously said it knew of no reason why the Germanwings co-pilot might deliberately crash a plane.
The revelation follows confirmation that Lubitz had suicidal tendencies years before obtaining his pilot's licence.
Lufthansa, the parent company of Germanwings, had acknowledged that he had interrupted his pilot's training but had given no further details.
It now says that when he resumed training, he provided the flight school with medical documents showing that he had gone through a "previous episode of severe depression".
Lufthansa cited e-mailed correspondence between Lubitz and the flight school.
The airline said it had passed the e-mails and additional documents to Duesseldorf prosecutors after internal investigations.
Investigators in Duesseldorf last week found torn-up sick notes showing that Lubitz was suffering from an illness that should have grounded him.
Germanwings has said it had not received a sick note from Lubitz for the day of the crash. Lubitz had a valid medical certificate at the time of the crash of the Airbus A320 operated by its budget unit, Lufthansa added
A new access road will help recovery teams at the crash site where all human remains are now said to have been removed.
The fact that officials knew Lubitz had suffered from depression raises questions about Lufthansa's screening process for pilots as it faces the threat of legal action from victims' relatives who continue to arrive in the Alps to see where their loved ones died.
Adding to their agony, reports have emerged in the French and German press that a video filmed on a mobile phone inside the plane, capturing its terrifying last moments, has been found in the wreckage.