China: Xi Jinping opens Boao Forum
Comments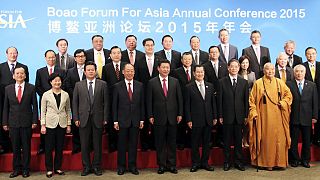 Xi Jinping opened the Boao Forum in China with a plea for political and economic cooperation concerning Asia.
During his key note speech, the Chinese president called on the continent to take part in a programme he launched: the so-called 'Silk Road Economic Belt and the 21st-century Maritime Silk Road Initiatives.'
"The programme and the establishment of the Asian Infrastructure Investment Bank – AIIB – are open to all," he said. "We welcome the countries along the road and all the Asian nations. We also welcome friends from every continent."
Britain has announced they'll sign up for the AIIB, an institution providing financial support to Xi's programme.
The US, however, has resisted.
Dutch Prime Minister, Mark Rutte, highlighted the importance of inter-continental trade.
"Bilateral, inter-regional trade flows between Asia and Europe are already the largest worldwide," he said. "So we depend on each other. That's a fact. For example, financial stability in the Eurozone directly influences growth rate in Asian countries. And the rise of a prosperous middle-class in a large part of Asia is crucial for Europe's future."
Leaders from 14 countries within Asia, Africa and Europe attended the opening of the second Boao Forum. Regional economic integration is a key them of the conference, which also serves as a platform for world leaders to address pressing issues concerning Asia and emerging markets.