German police remove items from flight 9525 co-pilot's homes
Comments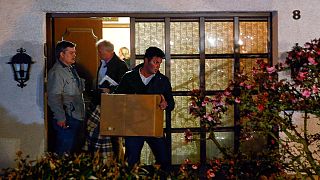 Police in the German town of Montabaur have searched the home belonging to the parents of Andreas Lubitz, the co-pilot who apparently locked himself alone in the cockpit of Germanwings flight 9525 and set it on course to crash into a Alpine mountain.
A computer and other items were removed in bags and boxes, along with a man covered with a jacket who is understood to be assisting police with their enquiries.
The investigation will now focus on the motivations of 28-year-old Andreas Lubitz who joined the airline 18 months ago. He has been described as friendly young man who gave no sign of harbouring harmful intent.
Police also searched Lubitz's apartment in Dusseldorf and removed a quantity of items.
"The French authorities have not given us any specific information regarding what we could be looking for here, but of course we will search the entire apartment." said police spokesman Markus Niesczery, who added, "Naturally we are hoping that this will give some indication of, let's say, the circumstances that might eventually have led to the plane crash, or perhaps a motivation."
Many airlines have announced a change in their safety policies in the wake of the tragedy so that two crew members must be present on the flight deck.