Amazement in the hometown of Germanwings co-pilot Andreas Lubitz
Comments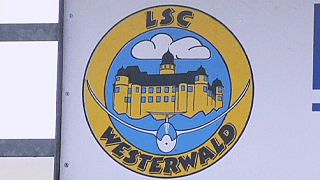 In the hometown of the co-pilot of the crashed Germanwings plane there is amazement at the new developments announced in France.
He was a lot of fun, although sometimes a bit quiet
Andreas Lubitz appears to have deliberately crashed into a mountain after locking the captain out of the cockpit, say prosecutors.
In Montabaur, between Frankfurt and Bonne, people reacted at the flight club he belonged to.
One member, Peter Ruecker, said: "He was a very nice young man. He was a lot of fun, although sometimes a bit quiet. He was just another boy like so many others here."
And by all accounts, Lubitz was seen as someone right for the job.
The head of the Westerwald flight club, Laus Radke, said: "They are professional pilots. They have a certain internal control mechanism. They are examined and have to be healthy.
"We have to have certain qualities to fly. A doctor talks to us and we have to be physically fit and mentally fit."
28-year-old Lubitz lived with his parents in Montabaur, but he also had lodgings in Dusseldorf. They gathered today with victims' families near the crash site, but were then questioned by police.
Some reports say Lubitz had to take a break from his pilot training in 2008 because of a burnout after suffering from depression.
Police in Germany say they are searching properties in Dusseldorf and other locations for any evidence.
Officers have been seen taking boxes of documents from the Lubitz family home in Montabaur.