Ebola vaccines 'appear to be safe' in tests
Comments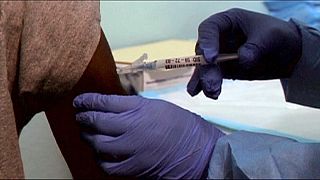 Two experimental Ebola vaccines "appear to be safe" part way through a clinical trial being conducted in Liberia, the U.S. National Institutes of Health (NIH) said.
The two vaccines, each given in a single injection, are being tested for safety and efficacy on more than 600 people in Liberia in a mid-stage clinical trial.
The Ebola epidemic that began in West Africa one year ago has killed more than 10,200 people, but a decline in new cases in the most affected countries, Liberia, Guinea and Sierra Leone, has led to hopes that it may be ending.
Based on the encouraging safety results, the study may now advance to the next phase of efficacy testing, in which additional volunteers are injected and assessed to see whether their immune system responds by producing anti-Ebola antibodies.