Boko Haram will not 'sabotage' Nigeria's presidential poll, says analyst
Comments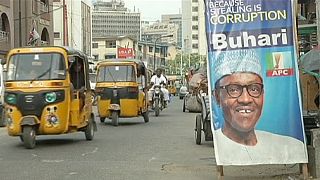 Saturday's presidential election in Nigeria sees incumbent Goodluck Jonathan go up against former military ruler Muhammadu Buhari.
Boko Haram might carry out terrorist attacks to stop people going to vote, particularly in the north.
It is being touted as the closest political race since the end of military rule in 1999.
Jonathan has addressed the nation, saying nothing could justify bloodshed and that security measures would guarantee a free and fair poll.
"Let us all, political party leaders, contestants, party members, party agents, supporters and ordinary voters alike, be very conscious of the fact that the eyes of the entire world are on us," he added.
In 2011, around 800 people were killed in post-election violence, when Jonathan defeated Buhari. Western powers have been pressing both sides not to stoke tensions.
Euronews reporter Garah Faiza has been discussing the election and the security challenges with Mohammed Benhammou, President of the African Federation for Strategic Studies.
Garah Faiza, euronews:
"After being delayed, this poll is finally taking place. But Boko Haram is threatening to sabotage it. Do you think this will happen?"
Mohammed Benhammou:
"I don't think that Boko Haram will sabotage the elections. It is certain they have managed more or less to obstruct the elections especially in the north of the country. But I don't think they will succeed in stopping them. It's true that there is a security threat. Boko Haram might carry out terrorist attacks to stop people going to vote, particularly in the north."
euronews:
"Do you think the Nigerian authorities are going to be able to provide enough security for this election?"
Mohammed Benhammou:
"Nigerian authorities have taken extraordinary measures. They've closed the land and sea borders. Vehicles are not allowed to be used, except official vehicles. The Nigerian authorities are also circling Boko Haram strongholds."
euronews:
"There's a large number of displaced people, who have fled Boko Haram. Are they going to be able to vote?"
Mohammed Benhammou:
"There is a great number of displaced. Their numbers are now over one and a half million. The election commission is now putting all of its efforts into solving the problem. But I think it will be really difficult and consequently this poll will see irregularities. This could have repercussions for the results because violence will come after the elections."
euronews:
"The outgoing president Goodluck Jonathan, is he the favourite in this election?"
Mohammed Benhammou:
"No, we cannot say that. Polls from February were not going in his favour because he's seen as failing on security and on facing up to Boko Haram, among other issues."