Author Scott Westerfeld captures dramatic footage after New York gas explosion
Comments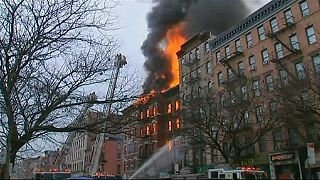 An major explosion in New York's East Village has injured around 20 people and caused the collapse of two apartment buildings. At least four of the injured were in critical condition.
New York Mayor Bill de Blasio said the blast appeared to have been caused by gas work inside one of the buildings.
He said gas and plumbing repair work had been underway, and that utility inspectors had been on the scene about an hour before the explosion and found the work did not pass inspection.
"To the best of our knowledge they were working on the gas in the building. That was the work begin done and right now the fire marshals and the police department are investigating with all of the people involved and I'm sure by the end of tonight we'll know a lot more," added New York Fire Commisioner Daniel Nigro.
The explosion caused two apartment buildings to collapse and burst into flames and two others to catch fire.
The area of the fire was evacuated and residents in Manhattan were advised to keep their windows closed because of the smoke.
Author Scott Westerfeld was nearby when the fire broke out. He tweeted a series of photos and a video as firefighters fought the flames.
The rest of the building next door is down. pic.twitter.com/dq62W1SeRb

— Scott Westerfeld (@ScottWesterfeld) March 27, 2015
Empire State Building rises up behind. pic.twitter.com/WOhwS8B8tx

— Scott Westerfeld (@ScottWesterfeld) March 26, 2015
Okay. I've uploaded some video. http://t.co/5IC7q7xQ1c

— Scott Westerfeld (@ScottWesterfeld) March 26, 2015
123 Second is already gone. Adjacent buildings may well follow. pic.twitter.com/hwbMI2RmSr

— Scott Westerfeld (@ScottWesterfeld) March 26, 2015