New video shows moment Tunisia's elite BAT squad confront Bardo Museum killers
Comments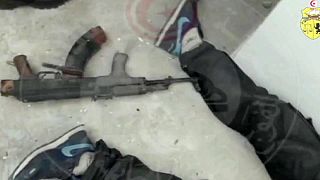 A newly released video shows the moment Tunisia's elite BAT squad entered the Bardo Museum to confront the gunmen who attacked the Tunis tourist attraction, which left 21 people dead.
The country's Interior Minister, Najem Gharsalli, announced that the assault was launched by a cell of 23 militants believed to be a union of two extremist groups, Okbha Ibn Nafaa and al-Qaeda in Islamic Maghreb.
Around 80 percent of those suspected of involvement have been arrested and authorities are engaged in a huge operation to locate those still at large.
It has since been uncovered that the two killers shot dead at the scene received training at militant camps in Libya.