Germanwings pilot 'locked out' of cockpit - crash investigators
Comments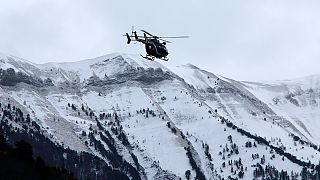 Unconfirmed reports say voice recordings from the Germanwings passenger jet that crashed in the French Alps suggest one of the pilots had been locked out of the cockpit.
The New York Times says in its report that it has spoken to a French military official involved in the investigation.
According to the report, after a perfectly normal conversation in German between the two pilots during the early part of the flight, "the audio indicated that one of the pilots left the cockpit and could not re-enter".
First he knocked lightly on the door and there was no answer, the report says. He hit more strongly, and still there was no response.
In the end "you can hear he is trying to smash the door down," the investigator is quoted as saying.
Germanwings said in a statement that it could not confirm the information, but the AFP news agency says another source close to the inquiry backs the New York Times' version.
The French investigation bureau (BEA) has confirmed only that the recovered black box had recorded human voices and other sounds.
It will reveal more when it has accurate information, the bureau says.
Reports say the co-pilot had joined Germanwings after training and had more than 600 hours flying experience.
Earlier the airline said the captain had more than 6,000 hours.
Air traffic controllers made no contact with the aircraft during its unusual descent.
Investigators say there was no explosion on board and "the plane was flying right to the end".
Germanwings Flight 4U9525 was en route from Barcelona to Dusseldorf on Tuesday when it crashed in the French Alps, killing all 144 passengers and six crew members.