Florida teen shoots dead 6-year-old brother and kills himself
Comments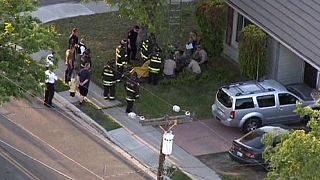 In Florida a boy of six has been shot dead by his 13-year-old brother who then killed himself after an argument over food.
The teenager also shot his older brother. The 16-year-old was wounded but managed to raise the alarm.
The authorities say the three brothers were alone at home in Hudson north of Tampa when the 13-year-old grabbed a handgun.
"This is a nightmare when you hear about the ages of these boys – a 6-year-old that was probably playing in his room, an argument over food, and he lost his life," said Chris Nocco, Sheriff of Pasco County. "For our own members we've activated our crisis intervention team because this is a horrific scene."
Last August the US was shocked by another fatal shooting involving a child which was caught on video.
A gun instructor was accidentally shot dead by a nine-year-old girl he had been showing how to use an Uzi submachine gun.
Campaigners for tighter gun controls say at least 100 children were killed in unintentional shootings in the US in a 12-month period from late 2012.
Another report claims there have been more than 100 school shootings in the US since the Sandy Hook school massacre in Newtown, Connecticut in December 2012.
The atrocity ignited a fierce debate about gun controls in the US.
But for the influential National Rifle Association and many Americans, gun ownership is a fundamental right enshrined in the Second Amendment to the US Constitution – and pro-gun supporters have resisted attempts to tighten laws by the Obama administration.