Ukraine's oligarchs clash, president wrests control of business interests from governor
Comments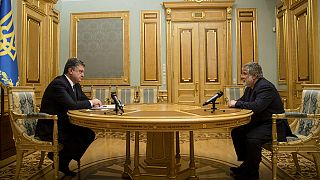 Ukraine's President Petro Poroshenko has accepted the resignation of Ihor Kolomoiskiy, the oligarch governor of Dnipropetrovsk, a key region in the east of the country. Forbes magazine estimates Kolomoiskiy's fortune at 1.8 billion dollars.
He has been embroiled in a political intrigue since a few nights ago, when unidentified armed men erected steel caging around the entrance of the building in which oil company Ukrnafta is headquartered, in Kyiv. This followed on the heels of an amendment last week in parliament of a law on public-private partnerships.
Ukrnafta is majority-owned by the state — 50% plus one share, the largest oil and gas producer in the country, bringing in hundreds of millions of dollars in revenue. But the state was having difficulty collecting. Now, however, the parliament's amendment of the law allows Ukraine to reap dividends where before this was blocked by 42% owner Kolomoiskiy.
Minister of Energy and Coal Volodymyr Demchyshyn comments on what some have described as the fortification of the company's headquarters.
Demchyshyn tells euronews: "Any change in the management of a company like this means someone loses his control. If that someone who is losing control used to make profits and administered huge resources, then of course I understand why these people are fighting: it is to prevent someone else from taking control."
Kolomoiskiy controls large parts of Ukraine's economy, including in the energy, banking, media, aviation and metallurgical sectors. The way many in Ukraine see things, his inner circle ran Ukrnafta until the law change put a stop to that.
But Kolomoiskiy says: "That is false. PR experts invented a story about me being angry and some nice members of parliament regaining control of the oil company, fulfilling Maidan protesters' wishes. Ukrnafta was always under state control, together with the private shareholders. This is a publicity stunt to boost the stature of political parties who backed the amendments! A security company owned by Ukrnafta reinforced security because the company was afraid of a corporate raid."
Kolomoiskiy has been a valuable contributor to the national cause, funding volunteers fighting pro-Russian separatists and retaining control of parts of the eastern Dnipropetrovsk region.