FIFA presidential race: Blatter under fire
Comments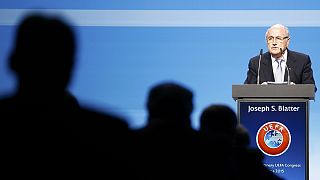 FIFA president Sepp Blatter endured heavy criticism of his leadership when he attended the Uefa Congress in Vienna on Tuesday.
The 79-year-old, who turned down UEFA's invitation to address delegates as a candidate along with his challengers, was accused of not spending enough of FIFA's wealth and tarnishing the world body's image.
Michael Van Praag, the head of the Dutch Football Association was arguably the most outspoken candidate while Prince Ali bin Al Hussein, a FIFA vice president from Jordan, and former Portugal star Luis Figo also gave their campaign speeches.
FIFA will announce the new president at their Zurich headquarters on May 29.