[WATCH] Trucks hit low bridge moments apart
Comments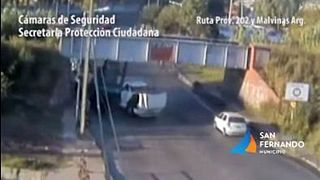 A low bridge caught out two truck drivers within the space of a few minutes in Buenos Aires.
Municipal traffic cameras recorded the moment a vehicle carrying a skip jacked into the air after striking the structure only to capture a similar scene when another lorry had the top ripped off its load.
The incident happened in San Fernando in the north of the Argentinian capital and the council claimed that both drivers had ignored maximum-height signs on the city's Provincial Route No. 202.
One driver was admitted to hospital with leg pain after the accident.