New anti-pollution traffic ban cuts congestion, says Paris mayor
Comments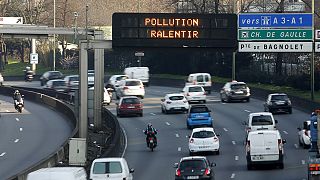 The number of vehicles clogging up the roads in Paris was sharply reduced on Monday due to anti-pollution measures, according to the authorities.
The reason for the latest restrictions banning half of all traffic in the capital was a nasty smog affecting urban areas across northern France.
Police in Paris were out to enforce the rules authorising only vehicles with licence plates ending in odd numbers.
Similar restrictions were imposed a year ago.
The police reported that morning rush-hour traffic jams were down by a third, and Paris mayor Anne Hidalgo said that the number of cars on the roads at 9am was 40 percent less than usual.
#Pollution : à cette heure, il y a environ 40% de moins de circulation dans #Paris

— Anne Hidalgo (@Anne_Hidalgo) March 23, 2015
Thousands of motorists who defied the restriction were given on-the-spot fines of 22 euros.
One visitor from outside Paris supported the ban: "It's a good thing firstly for traffic: it's much nicer to drive in Paris with half the number of cars… And it's good for the environment," she said.
Another driver disagreed: "We're being held hostage. It would be good if the authorities looked more at car manufacturers who make cars that pollute. I am pretty sure that somewhere there are innovative solutions which do not cause pollution," she said.
In fact hybrid and electric vehicles were among several exemptions – which included vehicles carrying sick or disabled passengers, public service vehicles, vehicles with foreign licence plates, taxis, journalists and sales people, and vehicles carrying three or more people.
Despite the official declarations of success, there was some evidence of confusion among both police and the public.
Public transport, including the Paris metro, was free at the weekend and on Monday.
The drastic moves followed a pollution peak last week, which saw landmarks such as the Eiffel Tower obscured by smog – and Paris declared the most polluted city in the world.
The authorities decided not to extend the ban into Tuesday, as it was expected that a change in the weather would reduce pollution levels.