Fencing Grand Prix: Novosjolov and Shin strike gold in Budapest
Comments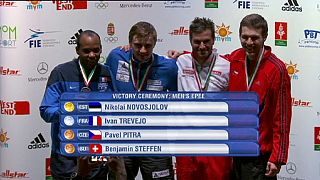 The second Fencing Grand Prix of the season took place in Budapest Hungary.
The epee event gathered 515 of the world's best but there could only be one winner in each of the men's and women's categories.
After an making a stunning comeback to win through his semi-final earlier in the day 44-year-old Cuban-born Frenchman Iván Trevejo appeared spent when facing Nikolai Novosjolov.
Novosjolov – a two times world champion from Estonia – breezed through the final and highlighted the nine years difference in age between himself and his opponent.
Novosjolov was rarely threatened and comfortably saw out a 15-6 victory to strike gold.
The ladies' final was an altogether different affair.
Romania's Ana Maria Branza and 2013 World Cup champion SHIN A Lam of South Korea could hardly get on the scoreboard.
After the full regulation time the pair were stuck at 4 points a piece.
A one minute extra time was needed for a winner to be declared.
The points then started to pile up in favour of Shin.
The South Korean added another five points to her tally while Branza could only strike her opponent once more.
The final eventually ended with Shin celebrating a 9-5 victory for her first success of the season.