Slovenia win team ski-jumping title
Comments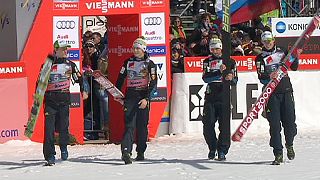 Slovenia's four-man ski-jumping hold-up in Planica saw them take the team title on home ground from under the noses of the Austrians.
Led from the front by their star Peter Prevc, who won the individual tile on Friday, the Slovenians surpassed themselves to beat the Austrians into second place, and snuff out the challenge from the Norwegians, who were crowned world champions last month and had to settle for third.
Prevc still has hopes of an individual jumping overall globe with one round to go, although Germany's Severin Freund remains the favourite.