Machete-wielding man shot by police at US airport
Comments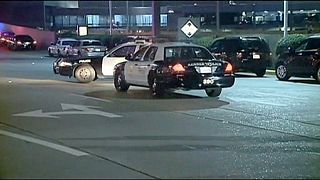 A man who tried to storm a security checkpoint at a US airport armed with a machete has been shot three times by police.
The man is said to have sprayed two security workers in the face with wasp repellent at the Louis Armstrong New Orleans International Airport.
Witnesses recall a scene of chaos as events unfolded. Some
passengers suffered minor injuries as they fled to safety.
"The law enforcement officer proceeded down the exit line to come around, coming in very close contact to the individual with the machete, and that officer fired three times, hitting the perpetrator once in the left chest, the left facial area and the left thigh," said Newell Normand, Jefferson Parish Sheriff.
Police say the man has been undergoing surgery. Meanwhile,investigators are trying to find out why the attack was carried out.