Judo titles tumble at Tiblisi's Grand Prix tournament
Comments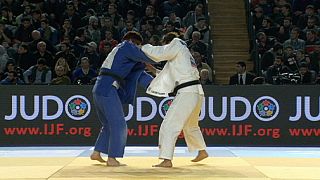 She won the Grand Slam event in Tokyo, now Slovenia's Tina Tristenjak has bossed the under 63-kilo category in Tiblisi, too.
The number two seed added another judo title to her collection by beating Mongolia's Munkhzaya Tsedevsuren, a surprise finalist after knocking out the top seed in round two.
Youth beat experience in the 70 kilo category as 21 year-old Szaundra Diedrich
beat the 32 year-old Olympic bronze medallist Gevrise Emane to win her first IJF Gold medal.
In the men's under 73-kilo category Azerbaijan's Rustam Orujov took on all comers, the number three seed beating the world champion on his way to the Gold Medal.
And in the minus 81.-kilos category Russia's Alan Khubetsov has won the top prize, beating local Georgian fighter Ushangi Margiani. It is only his second Grand Prix title.