Crystal run continues for US as Shiffrin skis to slalom title
Comments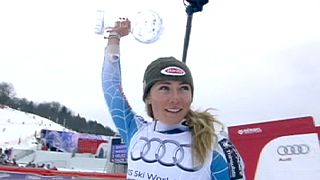 Three in a row for Mikaela Shiffrin as the American world and olympic champion won the slalom in Meribel , her fifth world cup win of the season, to retain the Crystal Globe.
Her rare ability to ski even faster at the end of runs that see her rivals' energy sapped saw her over the line and maintain slalom dominance she has held since she was 17.
Her win also means Americans take three of this years' four individual women's globes home with them.
Overall World Cup leader Tina Maze regained her lead in the race for the title with just the Giant Slalom to go by finishing fourth. She now sits 18 points to the good of Anna Fenninger.
The Austrian entered her first slalom in four years in a bid to make up points in her overall title tilt, but could only finish 23rd and scored none.
The season's Giant Slalom title-decider sees the events' two current queens, Maze, the Olympic champion, and Fenninger, the World Champion, square off against each other.