Unbelievable cheating: Relatives of India students scale building to pass answers
Comments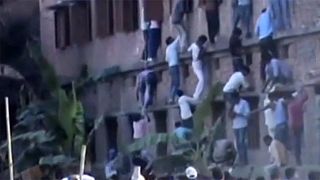 Ever been tempted to cheat in your exams ? Sneak your mobile in down your sleeve or write the answers up your arm?
Students sitting their tenth grade school finals in India have taken things a step further in their pursuit of attaining the correct answers and their methods were a lot more athletic than those mentioned above.
Education authorities have been forced to tighten security at high schools across the eastern state of Bihar, which in some cases necessitated a police presence, after relatives of teenagers sitting examinations were seen scaling the walls of exam centres and passing answer sheets through the windows.
The unbelievable videos, which were shot yesterday and Wednesday (March 18 and 19), ended in a Tom and Jerry-style chase between dedicated relatives and the police.
Officials suggest that police attempts to discourage the students' facilitators were unfruitful, as they "could not use force to drive away the parents".
The widespread cheating has led to some 600 students (aged between 15 and 16) being expelled.