Switzerland win team event at World Cup finals
Comments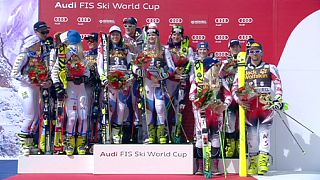 Switzerland stunned the bigger guns to win the Nations Team Event at the World Cup season finals in Meribel.
The action-packed parallel event saw heavyweights Germany, France and Slovenia all make first round exits.
The Swiss and Swedes then safely negotiated their semi-finals against Italy and Austria respectively to contest the showpiece match-up.
It was an evenly balanced final as both four-skier teams picked up two victories.
At two wins each the winner had to be decided by the fastest accumulated female and male times.
Thanks to Wendy Holdener and Reto Schmidiger the Swiss could celebrate first place, winning by a combined ninth hundredths of a second.
Austria claimed third place beating Italy into fourth