Reaching new heights: Parents in India scale walls to 'help students cheat'
Comments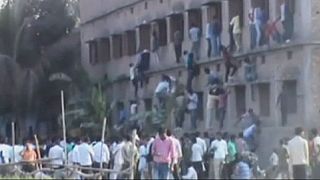 Cheating in school exams in the eastern Indian state of Bihar has, quite literally, reached new heights.
Videos have emerged of people scaling the walls of test centres in the region, apparently to pass on answers to students, despite draconian security at high schools state-wide.
Amazing photo. Kids being assisted to cheat in exams in #India. A real life #mural dedicated to malpractices pic.twitter.com/MYT05hlxLj

— Raza Rumi (@Razarumi) March 20, 2015
Vishwanath Kumar, Superintendant of Mulkzada High School, said he was running a cheat-free establishment:
"If students cheat, they will not be able to progress in life," he said. "But no such thing is happening at my centre. We are conducting peaceful and cheating-free examinations here, because there is a dearth of police officials. The public outside is causing some disturbance, but we are dealing with it."
Police have been posted at every examination hall, but say they do not have the right to use force to disperse the crowds of relatives.
Reports suggest as many as 20 people were briefly detained for trying to help students cheat.
More than 1.4 million 15 and 16-year-olds are taking their final school exams in Bihar.
According to a state official, up to 600 students were expelled in the space of four days, after being caught cheating.
Punishment can include a jail sentence, although this is rarely carried out in the state.
The exams, held by the Bihar School Examination Board (BSEB), will continue until March 24, 2015.