Millions enjoy 'the best eclipse in years'
Comments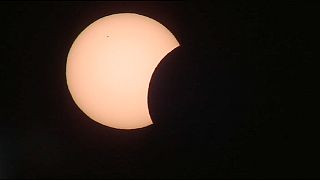 Millions of people have enjoyed watching what astronomers are calling 'the best solar eclipse in years.' Some of the clearest views were from Norway and the Faroe Islands.
Other people enjoyed the best seats in the house – on a Russian flight over Murmansk, from which cloud cover wasn't a problem.
During the eclipse, the sun was completely obscured by the moon, much to the delight of those watching.
Taking photographs and videos was not a danger to people's sight, as long as they avoided looking directly at the sun with the naked eye.
Crowds gathered at the Brandenburg Gate Berlin, Germany to watch the celestial show, equipped with special glasses.
Further south, in Egypt, crowds gathered at the pyramids to watch the eclipse amongst some of the world's oldest architecture. The last solar eclipse on this scale was in 1999.
Alaa Ibrahim, the associate professor of Space Astrophysics at the American University in Cairo, said the site had special resonances with the eclipse: "The sun was a god in ancient Egyptian culture, and in several places throughout Egypt, we can watch the sunrise and the sunset, lined up with the ancient temples."
Next year there will be a total eclipse of the sun over Sumatra, Borneo and the Pacific Ocean.