Yemen president flees palace as fighting erupts in Aden
Comments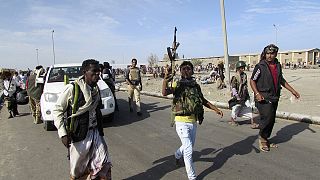 Fierce fighting has broken out between rival forces in Yemen, closing Aden's international airport and forcing President Hadi to flee his presidential palace.
Thirteen people were killed when militia loyal to the former president stormed the airport, triggering heavy gun battles with forces loyal to the current president.
The forces loyal to the current president managed to repel the attack before two fighter planes targeted the presidential palace in Aden.
Yemeni security sources said the situation at the palace was under control and that the president had been taken to an undisclosed safe location.
The fighting is evidence of a deepening power struggle between President Hadi and the Shi'ite Houthi group which controls the capital Sanaa and is allied to former president Saleh. Should Aden fall into the hands of the rebel Houthis, Hadi would become further isolated. He made Yemen's second city the country's temporary capital after escaping house arrest in Sana'a under the rebels.