Tunisians hold vigils for victims of Bardo museum gun attack
Comments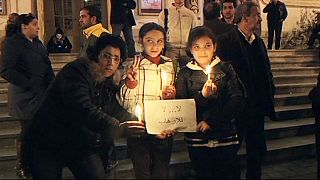 Shocked by the deadly gun attack in the Tunisian capital in which at least 20 people were killed – many of them foreign tourists – hundreds of Tunisians have held a rally in order to pay their respects for the victims and to stand up against terrorism.
Many who took part held make-shift signs saying 'terrorists are cowards' and 'the Tunisian people will not be disgraced'.
One woman said she was there in a show of solidarity, while another expressed concern about the longer term impact on the country at large. "It will affect the country's institutions at all levels,"he said.
MPs at the nearby parliament had been debating an anti-terrorism bill at the time of the attack, the government now faces the tough task of balancing security with freedom.
Tunisia has battled to keep extremism at bay since the 2011 uprising which triggered the Arab Spring. Until now Islamist militants have largely attacked members of the armed forces.