Tunis counts human and economic cost of attack on tourists
Comments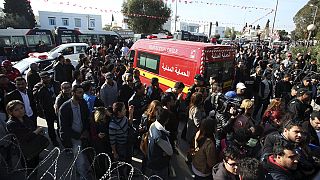 Tunisia is riding the shock waves following Wednesday's attack at the Bardo museum in Tunis in which at least 20 tourists and two Tunisians were killed, as well as the two gunmen.
An official statement was made identifying the foreign dead as Japanese, Italian, Colombian, Spanish, Australian, Polish, French and British.
President Beji Caid Essebsi, visiting hospital, where more than 40 wounded are being treated, said the country is at war against terrorists: "May God forgive those who caused this. We must not cry over our fate. Tunisians must show solidarity and give priority to our security forces to defeat terrorism."
When gunmen in military uniforms stormed the heavily guarded parliament compound in the heart of the capital, visitors fled into the national museum which is a part of it. The two unidentified extremists then took hostages.
In a counterattack two hours later, according to a government spokesman, security forces killed the militants and freed the captives.
Hundreds of Tunisians gathered on Wednesday evening to pay their respects for the victims and to condemn the attack. Makeshift signs said 'terrorists are cowards and the Tunisian people will not be disgraced'. The demonstrators expressed deep misgivings about the blow to the country's stability.
Tunisia has battled to keep extremism at bay since the 2011 Arab Spring uprising.
The assault on such a high-profile target is being seen as potentially disastrous for the country's economy, relying heavily on tourism, which had only recently begun to recover. Since 2011, Islamist militants in Tunisia have largely attacked the armed forces.