Thailand: ex-PM Yingluck Shinawatra to stand trial for negligence
Comments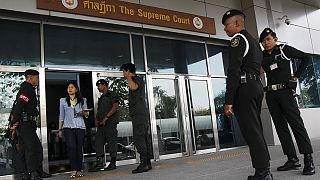 Thailand's ousted ex-prime minister Yingluck Shinawatra is to stand trial over a rice subsidy scheme that cost the government billions of euros.
She faces up to 10 years in jail if found guilty.
The Supreme Court said the criminal case for negligence would start on May 19.
The ruling is the latest legal move against the one-time politically dominant Shinawatra family – Yingluck's brother, Thaksin Shinawatra, is also an ousted former premier.
The Constitutional Court ordered Yingluck to step down last May, with the army then seizing power, saying it had to end violent street protests.
She was banned from politics for five years in January, convicted of corruption related to the rice subsidy.
Yingluck denies wrongdoing and has defended buying rice from farmers at above-market prices, saying the charges against her are politically motivated.
Critics however denounced the rice scheme as a populist giveaway to the Shinawatras' rural support base.