Israeli PM Benjamin Netanyahu claims victory in tightly fought Israeli election
Comments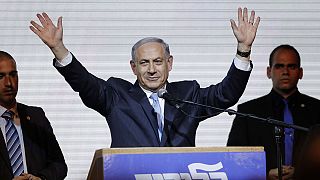 Israel's ruling Likud party appears to have secured a win in the country's general election.
According to the Israeli newspaper Haaretz Benjamin Netanyahu's party has taken at around 30 seats as opposed to 24 by opposition rivals Zionist Union.
However it is not enough for a majority in the 120 seat Knesset . A confident Netanyahu had claimed victory earlier on in the evening:
"I am proud of the people of Israel, that in this moment of truth they managed to distinguish between the essential and the superficial. And (managed) to stick to things that are important to us: efficient security, responsible economy and social protection that we are reaching for," said Netanyahu.
Vox Populi Israeli: "He is a strong man and, most important, he stood up to President Obama." http://t.co/CLBpdwtkBS

— Bill Kristol (@BillKristol) March 18, 2015
In the run up to the poll Zionist Union leader Isaac Herzog had looked poised to defeat Likud. In the event while Herzog is still claiming "everything is still open" a centre-left coalition looks to be slipping away.
Herzog told his supporters:
'What is still important to say is that we couldn't have reached this moment without this brave and splendid union between me and Tzipi Livni…. let us wait until the confirmed results are published."
Under Israeli proportional representation no party has ever won an outright majority.
Netanyahu's victory claim while appearing secure it will still mean he has to rely on allies in smaller parties to form a government.