Hooded anarchists clash with Greek riot police in Athens
Comments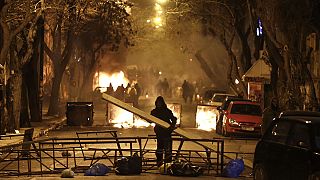 Dozens of self-proclaimed anarchists have clashed with Greek riot police in Athens.
About 60 hooded protesters held the rally in a show of solidarity with the guerrilla group called "Conspiracy of Fire Cells.
They are calling for several imprisoned members to be released and the closure of a new maximum security prison where they are being held.
The protesters at times fought with officers, setting cars on fire, hurling objects, smashing windows and stoning buses..
It is the second time clashes have erupted on the streets of Athens since the newly elected leftist government of Prime Minister Alexis Tspiras came to power in January.
In the days before the rally one anarchist group used social media to draw attention to a hunger strike by some of the convicted anarchists -some of whom have been found guilty of bank robbery:
#Greece: Poster about the hunger strike of the anarchist prisoners https://t.co/D5r4FQRxjc#GreekPrisonspic.twitter.com/7br9eDSZAi

— th anonymous (@ori_no_co) March 13, 2015