Indonesia calls off search for bodies from AirAsia crash
Comments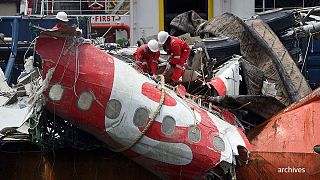 Indonesia says the search for passengers from AirAsia Flight QZ 8501 that crashed into the Java Sea on December 28 has been called off.
There were no survivors among the 162 people travelling from Indonesia's second-biggest city Surabaya to Singapore.
Salvage teams have recovered 106 bodies but the remains of the other 56 people on board are still unaccounted for.
It is thought the Airbus A320 climbed abruptly from its cruising height -trying to fly above a storm – when it stalled, or lost lift, and then plunged into the sea.
A multinational search and recovery operation has wound down in recent weeks.