'Gaps remain..... but there's some progress' in talks to restrict Iran's nuclear programme
Comments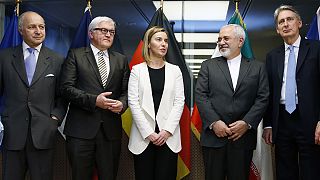 Talks between European negotiators and Iranian diplomats over Tehran's nuclear programme are said to be reaching a crucial point.
We discussed all open gaps and the way forward....
The negotiations in Brussels and those talking place in Switzerland between the US and Iran are paving the way for Six world powers to produce a political framework which the Iranian leadership can accept before the end of this month.
The parties have set a further June 30 deadline to finalise all the technical details of an accord.
"We discussed all open gaps and the way forward. So Zarif (Iranian Foreign Minister Mohammad Javad Zarif) is now going back to Switzerland and the talks will proceed also at a technical level with the political directors on Wednesday and from Wednesday onwards," said EU Foreign Policy Chief Federica Mogherini after the talks.
Sticking points
One of the main issues how much uranium Iran is to be allowed to enrich. The number of enrichment centrifuges it wants to operate over the long term is likely to be resolvable if Tehran can keep around 6,500 of the machines that purity uranium – according to a source close to the talks.
There are also discussions about the size of Iran's uranium stockpiles and how much would be relocated to Russia or another country, Western officials say. Originally, Iran wanted to enrich 2.5 tonnes of uranium per year, but could settle at half a tonne, a senior Iranian official said. The remainder would be turned into fuel rods or sent to Russia.
Above all the West wants Tehran to accept tight restrictions and intrusive monitoring of its atomic sites for at least 10 years in exchange for the gradual easing of sanctions.
Iran which denies wanting to have its own nuclear bomb wants the sanctions lifted immediately.
Recently both the US and France agreed to consider the possibility of a swift suspension of UN nuclear sanctions at the outset of any deal, in addition to freezing some of the most painful US and European energy and financial sanctions.
What happens if there isn't an Iran deal? http://t.co/58AZplKGiU (via StCollinson</a>)</p>&mdash; CNN Politics (CNNPolitics) March 16, 2015