Sir Elton versus D&G: War of words escalates in 'synthetic' babies row
Comments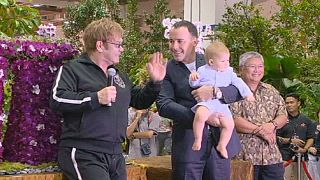 It could be a costly interview for Dolce and Gabbana.
Your archaic thinking is out of step with the times, just like your fashions
A celebrity boycott is gaining momentum over comments made by the Italian design duo
in which they criticised fertility treatment and same-sex parenting.
Italian magazine Panorama quoted Sicilian-born Domenico Dolce as saying:
"You are born and you have a father and a mother. Or at least it should be like this, that's why I am not convinced by chemical children, synthetic babies, wombs for rent."
Dolce and Gabbana, both gay and a former couple, say they did not mean to judge others.
But singer Sir Elton John, who has two boys with husband David Furnish, was furious at their remarks.
He wrote on Instagram: "How dare you refer to my beautiful children as synthetic."
"And shame on you for wagging your judgmental little fingers at IVF … Your archaic thinking is out of step with the times, just like your fashions."
Sir Elton's call for a boycott of the brand drew messages of support from his friends in the fashion and entertainment worlds.
Victoria Beckham, a former Dolce and Gabbana ambassador, offered John sympathy
sending a "message of love" to the singer, his husband and their two sons Zachary and Elijah, and to "all the beautiful IVF babies".
Sending love to Elton David Zachary Elijah & all the beautiful IVF babies x vb

— Victoria Beckham (@victoriabeckham) March 16, 2015
Rock star Courtney Love accused the Italian pair of "senseless bigotry".
Just round up all my Dolce & Gabbana pieces, I want to burn them. I'm just beyond words and emotions. Boycott senseless bigotry! #boycottD&G

— Courtney Love Cobain (@Courtney) March 15, 2015
Singer Ricky Martin, who is gay and has twin sons by a surrogate mother, wrote: "Your voices are too powerful to be spreading too much hate. Wake up, it's 2015. Love yourself guys."
.@dolcegabbana ur voices R 2powerfull 2B spreading so much h8 http://t.co/30Oe2hcxNt Wake up,Its 2015 Luv urselves guys #boycottdolcegabbana

— Ricky Martin (@ricky_martin) March 15, 2015
But as the storm rages, there is defiance from one half of the design team which chose motherhood as the theme for their recent women's fashion show in Milan.
Stefano Gabbano said they were entitled to their opinion and called Sir Elton a 'fascist'.
"I wasn't expecting it from a person like Elton John whom I considered — I underline considered — intelligent. You preach understanding, you preach tolerance and then you attack? Just because someone thinks differently to you?" he told Corriere della Sera newspaper.
Asked if he had spoken to John, he said: "It's useless, this is just an authoritarian way of seeing things: if you agree with me, good, otherwise I'll attack. And I wrote to him, in the comments on Instagram: fascist."
Concetta Lanciaux, a luxury industry consultant and former adviser to Bernard Arnault, CEO and founder of luxury group LVMH, said she did not think John's boycott demand would have an impact on D&G's sales.
"Consumers understand the humour of Domenico and Stefano, who are known for their wit. In addition, new consumers, even if they do not agree with the statement, like to think we live in a free world where people still can express their feelings and opinions," she said.
Gabbana himself seemed not to be worried about the possible business impact on the firm.
"Maybe we'll lose some Elton John fans, maybe we'll get some mothers, who knows?"
he told Corriere della Sera.