Severin Freund claims fourth successive win on Holmenkollen
Comments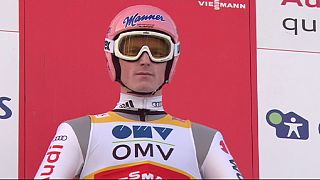 Severin Freund claimed his fourth successive victory. His win on the Holmenkollen, his second of the weekend was a huge step towards winning the overall World Cup title. The World Champion won with jumps of 132 and 128 metres.
"I am definitely not unbeatable. Stefan Kraft proved that in Lahti. Here I was jumping well, but everything else worked out perfectly as well. You have to fight hard for every win," he said.
Noriaki Kasai was second. He jumped 128.5 metres in both rounds and his second place was the sixth time this season he finished on the podium. "I was very happy, because I haven't been on the podium for a while. Actually I wanted to win but I am in good shape so it might be possible in the next competition in Planica," he said.
Peter Prevc and Kamil Stoch shared third place. Both jumpers caught up tremendously in the final round. Prevc was only 17th after his jump of 121.5 metres. The Slovenian, currently second in the overall World Cup, then put in the longest jump of the day with 134.5 metres, but both were equal on points at the end of the competition.