Mikaela Shiffrin wins on the slopes of Are
Comments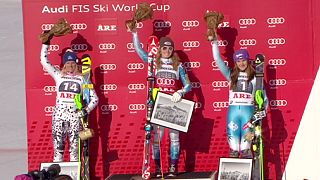 Mikaela Shiffrin won in her usual swashbuckling style in the slalom in Are in Sweden. It means a hat-trick of slalom globes are now within touching distance for the Olympic and world champion.
With a commanding lead in the slalom World Cup she is only ten points short of her third back-to-back trophy in the discipline.
The American, who turned 20 on Friday told reporters, "Are is a place where I immediately feel comfortable."
And that was more than evident in the fact that Slovakia's Veronika Velez Zuzulova was a huge 1.41 behind the untouchable Shiffrin. Sarka Strachova finished third 2.15 off the pace. There remains one race left and the climax to the season in Meribel at the end of the month.
The slopes of Are presented Tina Maze with one of her last chances to bridge the gap on Anna Fenninger in the overall standings in the women's World Cup but the Slovenian could only finish a lowly 16th in the slalom.
The 2013 World Cup champion will now tackle the Meribel finals with a 30-point deficit on the 2014 big globe winner.