All women crew of team SCA triumph in Auckland
Comments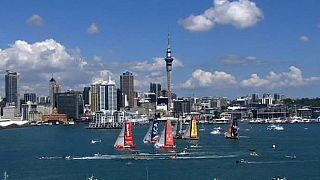 There was delight in Auckland for the all women crew of team SCA. They clinched a win in the Volvo Ocean in-port race in the New Zealand harbour.
The crew has struggled to make an impact in the main leg racing coming last of the active finishers from China to New Zealand but in this race the team was 20 seconds faster than second placed Team Brunel.
The victory adds to their earlier win in the in-port race in Abu Dhabi in January.
"We are really, really happy to be the only boat to have won two in-port races now said skipper Sam Davies who added, "it doesn't count for the overall result but it definitely counts for our pride,"
All looked calm in Auckland but the planned departure for the next leg to the Atlantic coast of Brazil has been postponed because of a series of cyclones working their way across the seas around New Zealand and Australia.