Russia: Five dead and up to 25 missing in shopping centre blaze
Comments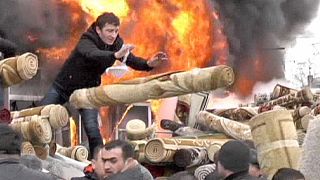 A fire at a shopping centre in Russia has killed at least 5 people, with up to 25 more feared trapped under the rubble.
But as emergency crews battled the ferocious blaze in the city of Kazan, desperate traders were struggling to save their merchandise.
In extraordinary scenes, vendors were filmed braving the flames to salvage dozens of huge rolled-up rugs and carpets, throwing them into piles in front of the burning three-storey mall.
Fire crews took more than nine hours to bring the flames under control. At least 36 people were taken to hospital, some of them seriously injured.
Kazan is the capital of Russia's Tatarstan region, some 800 kilometres east of Moscow.
An investigation is underway into the cause of the fire, which started in a first-floor cafe. Russian media reports suggest an electrical fault may have been to blame.