French say man close to Mohammed Merah is IS killer in video
Comments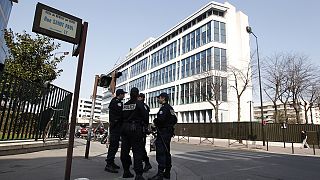 French officials now appear convinced the unidentified jihadi in a video which purports to show the execution of a prisoner of the so-called Islamic State is Sabri Essid. He is a half-brother of Mohammed Merah who shot seven people dead in Toulouse in 2012. A formal investigation is being launched to confirm his identity.
French media reports the child in the video, who appears to shoot the victim, an Israeli Arab accused of spying for Mossad, could be Merah's stepson.
Mohammed Merah was shot dead aged 23 after a siege of his home
following days of terror in Toulouse where he shot three unarmed soldiers, a rabbi and three small children at a Jewish school.
Sabri Essid is now thought to be living in IS-controlled Syria having quietly left France with his brother, wife and children last March to join IS forces there.