Ferguson: Police officers conscious, but mixed reports on location of shooter
Comments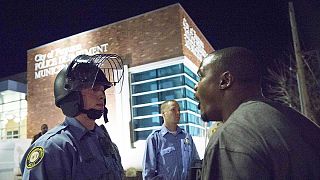 Two US police officers shot outside the Ferguson police department are conscious and being treated in hospital.
Witnesses say at least three shots rang out as people dispersed from a protest outside the headquarters in St Louis County, Missouri.
County Police Chief Jon Belmar said one of the officers – a 41-year-old from his department – was hit in the shoulder. The other – a 32-year-old from nearby Webster Groves – was struck in the face.
Chief Belmar said the shooter was 'embedded' in the group of demonstrators.
However, an eyewitness claims the shots were fired from further away.
"As we were about to pack our cameras up, we heard what we thought were fireworks up the street," said photographer Bradley Rayford. "Turns out it happened three more times. It was gunfire because we saw the muzzle fire from the gun up (at the) top of the street. So we all kind of ducked down. And once we ducked down, we saw a cop was shot right next to us."
The rally was largely peaceful prior to the shootings, but at least two people were taken into custody after a face-off with riot police.
Updated with reactions from local officials: Two police officers shot in #Fergusonhttp://t.co/2b9oPlxB5qpic.twitter.com/fVVxgdhs1V

—

STL

today (@stltoday) March 12, 2015