British fantasy writer Terry Pratchett dies at 66
Comments
By
Joanna Gill
with
THE GUARDIAN, TRANSWORLD PUBLISHERS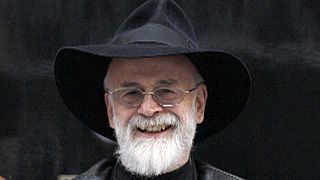 British writer Terry Pratchett has died aged 66, his publishers have announced.
They released a statement on social media saying:
"It is with immeasurable sadness that we announce that author Sir Terry Pratchett has died.
The world has lost one of its brightest, sharpest minds. Rest in peace Sir Terry Pratchett."
He sent a series of Tweets before his death, but his publishers confirmed that he died surrounded by his family with his cat sleeping on his bed.
Pratchett had been diagnosed with early on-set Alzheimers in 2007, making a TV series with the BBC about his experiences with the disease.
The acclaimed Fantasy author, who has sold more than 70 million books, was best known for his Discworld series, the first, The Colour of Magic was released in 1983.
"You can't ask a fantasy writer not to want a knighthood. You know, for two pins I'd get myself a horse and a sword," Pratchett was quoted as saying on receiving his knighthood in 2009. He also said that bankers' bonuses should be spent on treating dementia patients.
Pratchett remembered on Twitter
The t-shirt that Terry Pratchett wore to conventions: pic.twitter.com/9KJvIpakBc

— Jason (@NickMotown) March 12, 2015
Saddened but incredibly inspired. A privilege to share this word world, this craft, with a man who gave it so much. #TerryPratchett

— Giles Kristian (@GilesKristian) March 12, 2015