NATO boosting tangible support for members fearful of Russia
Comments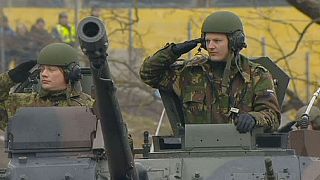 American Stryker armoured fighting vehicles rolled alongside the Estonian Army on the Baltic republic's Independence Day, Feb. 24th. In the city of Narva, at the border with Russia, some 100 NATO British, Dutch, Spanish, Latvian and Lithuanian soldiers paraded as well. The symbolic demonstration of solidarity goes some way to allay fears of potential Russian aggression in the former Soviet countries.
Moscow, to all appearances completely self-assured, held military exercises along its border with Ukraine in February.
A similar show of Russian military might included fighter bomber aircraft further north, over the Barents Sea. The Kremlin considers this a prime strategic area with Norway there, a NATO member. Russian craft have even skirted United Kingdom airspace, as photos show: a Tupolev Bear escorted by an Royal Air Force Typhoon last October.
NATO's 28 members are allies in collective defence under the fifth clause of the 1949 Washington Treaty, which says that an attack on one of them is taken to constitute an attack on all.
A few days ago, the prime minister of neutral Finland, which shares a 1,300 km border with Russia made clear the Finns have been considering article five.
Alexander Stubb said: "I think it is very important that in the span of the next government we don't exclude the possibility of seeking NATO membership in a similar way in which we excluded it for this government; it is also a security-political decision to keep that option open."
In the wake of the crisis in Ukraine ruining relations between Russia and the West, last month, the world's foremost military alliance reinforced its eastern flank by creating a rapid reaction force of 5,000 soldiers and six command posts in eastern Europe.
NATO's Black Sea members Bulgaria, Romania and Turkey joined the US, Canada, Germany and Italy in a naval exercise on Tuesday just across the water from Crimea, which was annexed by Russia last year.