Myanmar: Inquiry announced into student protest crackdown
Comments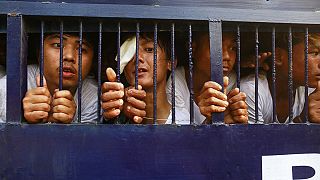 Students detained during a violent police crackdown in Myanmar have appeared in court.
Anxious relatives called out names and tried to get a glimpse of their loved ones in Letpadan as they were brought to the tribunal in a van.
Violence erupted on Tuesday in the town, about 140 km to the north of Yangon.
Police lashed out with batons in scenes that have sparked international condemnation and dismay at repression many hoped was a thing of the past.
Myanmar is now run by a semi-civilian reformist government.
"I hope people pray for them, for their sacrifice," says one protest leader's mother.
"The government should do good, so as not to make people hate them."
"This is unacceptable for all of us. It shouldn't be happening," a protester's father added
"It was not only my daughter and the other students that were beaten by the policebut also ordinary people, for demanding changes in education for everyone's sake."
The students are denouncing reforms they say will restrict academic freedoms. But when they tried to pursue a major protest march, police used their batons, beating and arresting those taking part.
Authorities say 127 people were detained.
As many denounce a throwback to the days of full military rule, state media says an inquiry will be held into the crackdown.
The United States and European Union condemned the violence, also denounced by Amnesty International which said it was "completely disproportionate".