Iraqi army and militia advance into Tikrit as ISIL retreat
Comments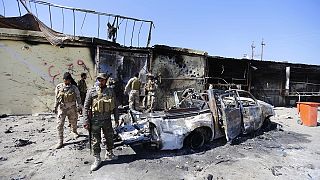 Iraqi security forces and Shi'ite militia fighters have captured part of the largest district of Tikrit from the self-proclaimed Islamic State group, according to security officials and the provincial governor.
It comes a day after they retook the neighbouring town of al-Alam.
The new area under army control is in the north of Tikrit, Saddam Hussein's home town, which was seized by ISIL extremists nine months ago.
Reports on Tuesday said the Iraqi army and allied forces had taken several areas of the city as militants began to retreat after a week of heavy fighting.
If the army's operation succeeds it will be a significant step on the road to Mosul, Iraq's second largest city also under ISIL control.
But there's some concern over the outcome in Tikrit – a mainly Sunni Muslim city whereas the offensive comes from mostly Shi'ite forces.
Iranian forces are also said to have been involved in the operation. There's unease over Tehran's role and influence, particularly among some Gulf and Arab countries.
The US is said to be largely absent from direct military offensives in Tikrit.