The route to Mosul: Iraqi forces close in on Tikrit
Comments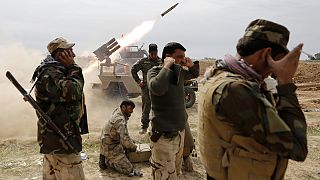 The US military has announced coalition forces carried out eight air strikes against ISIL militants in Iraq over a 24-hour period around March 9, 2015.
Four assaults near Kirkuk have reportedly demolished fighting positions, a heavy machine gun and a potential car bomb. Tactical units are also said to have been hit.
The route to Mosul
Three other strikes hit tactical units near to Fallujah, some 70 km west of the capital Baghdad, while another reportedly struck near Mosul.
Currently the largest ISIL-controlled city in Iraq, Mosul is the final goal in the latest operation to drive militants out of the country.
Saddam Hussein's former hometown of Tikrit will be the next goal on the route to Mosul. On Tuesday, March 10, the mayor of neighbouring al-Alam claimed government forces had taken total control of his town and were closing in on Tikrit.
#photooftheday A Shi'ite fighter gestures in front of a billboard on a street in the town of al-Alam, #Iraq Mar. 9 pic.twitter.com/jrb3ZWw4JI

— Al-Monitor (@AlMonitor) March 10, 2015
If the town is taken, it will be the first Sunni city in Iraq to have been taken by Shia military forces.
Iraqi armed forces and Shi'ite militias are said to have retaken control of Garma as they advance some 20 km south to Fallujah.
Rasoul Ali, a soldier in the Iraqi armed forces announced the news:
"We, the commandos of the 11th contingent were able to liberate Garma district, which had been under the control of ISIL. We liberated it in full," he said.